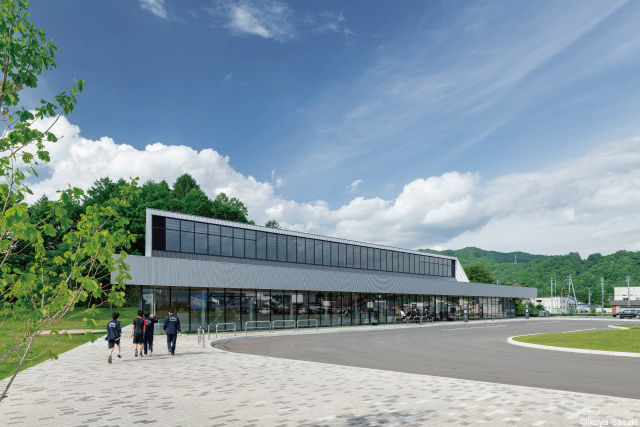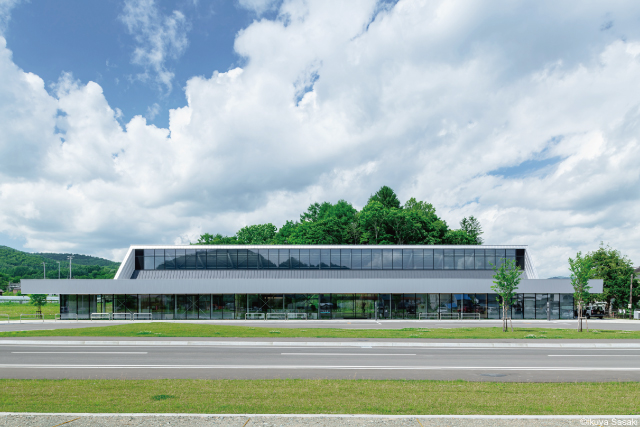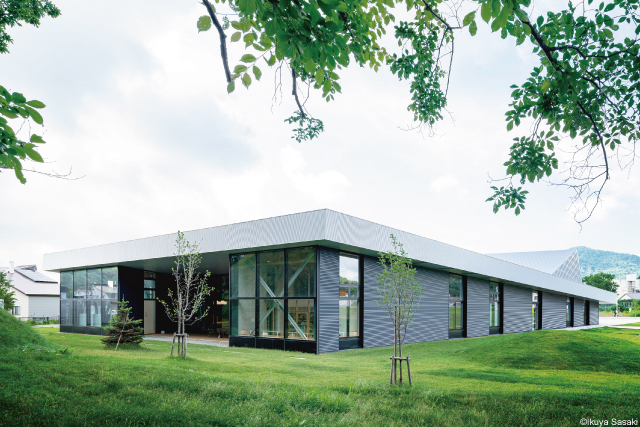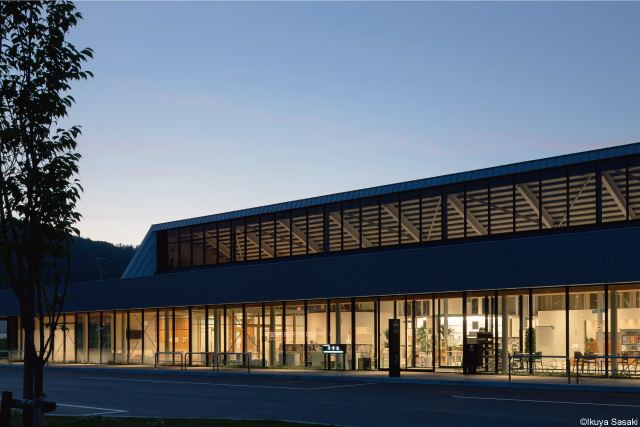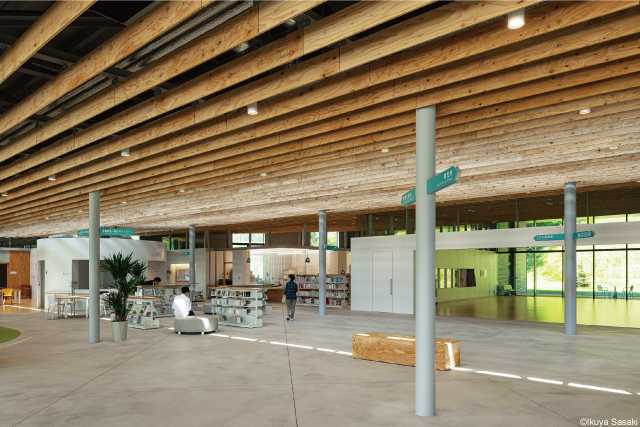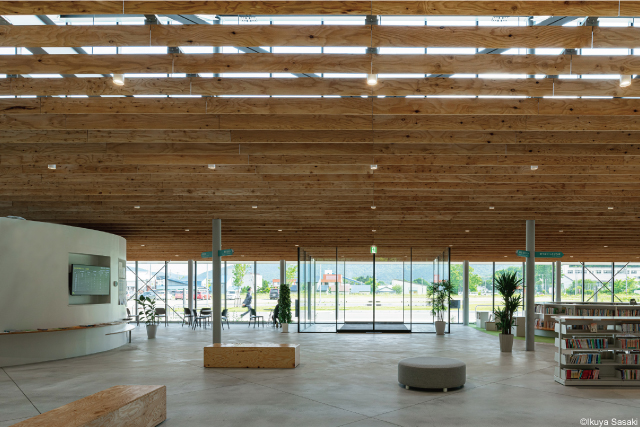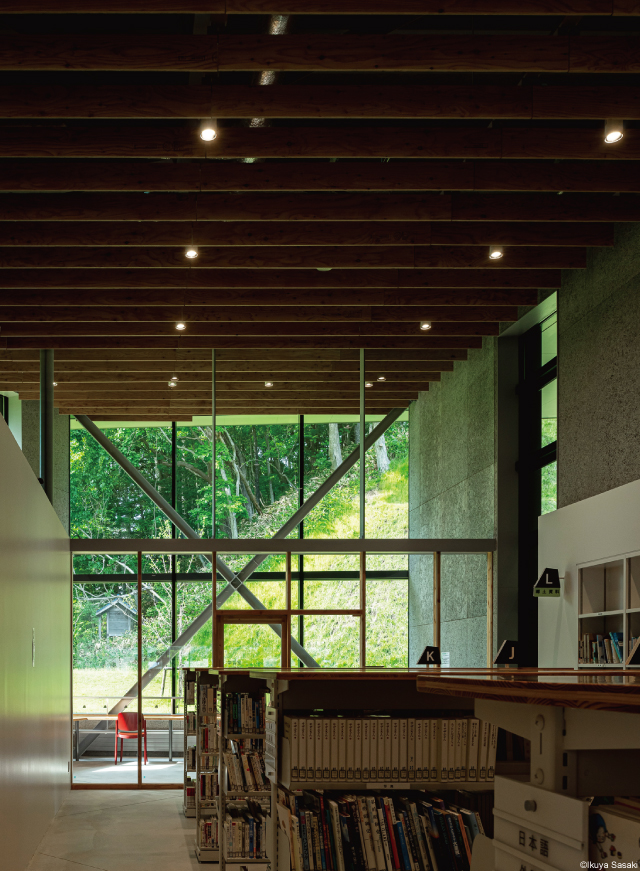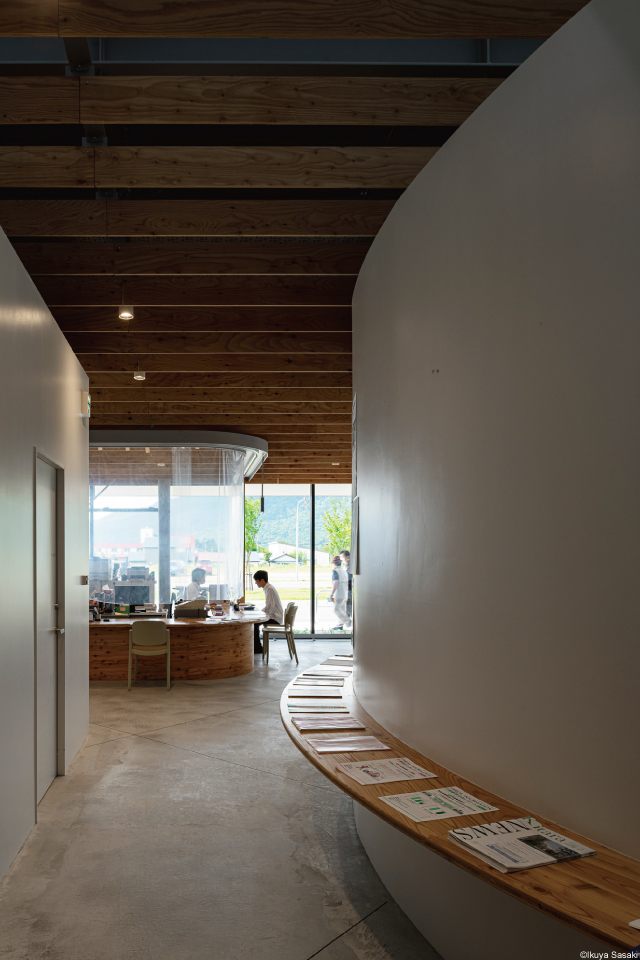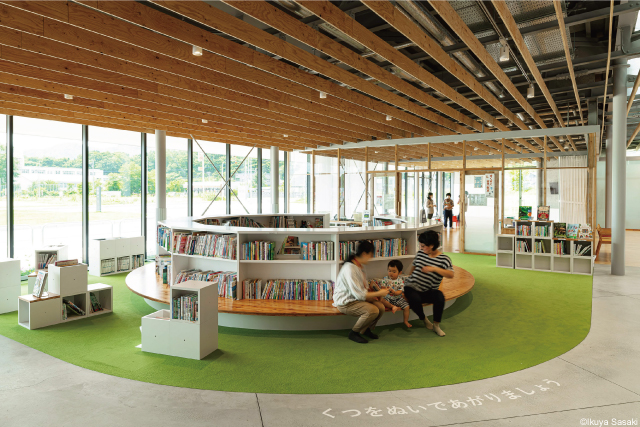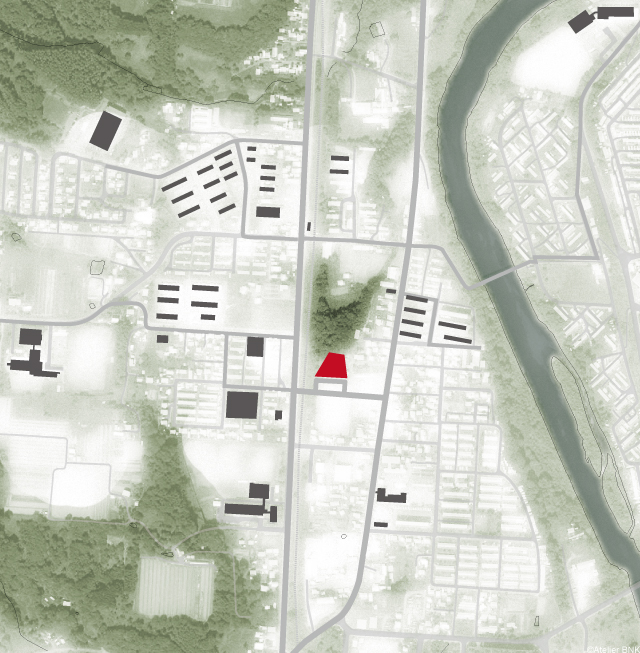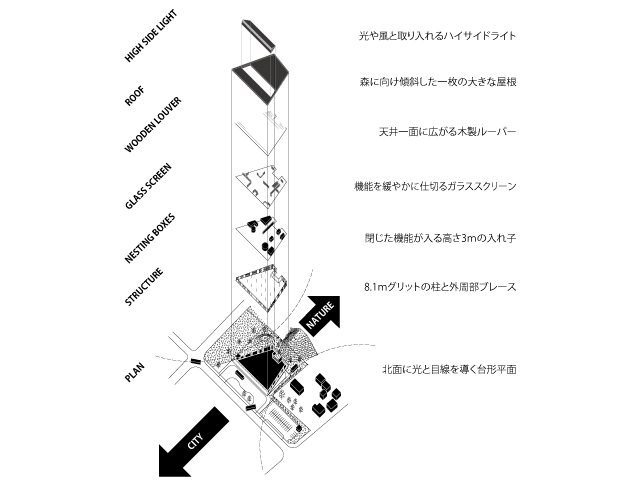 夕張市拠点複合施設 りすた
2019
北海道夕張市
構  造:鉄骨造
階  数:地上1階
延床面積:1,700㎡
北海道大学都市地域デザイン学瀬戸口研究室( 基本構想 )
山脇克彦建築構造設計( 構造設計 )
アトリエブンク + 総合設備計画( 設備設計 )
かつて石炭の町として栄えた夕張市は、2007年に財政再建団体に指定された。多くの公共施設の休廃止に追い込まれた市は、公共施設を清水沢地区に集める「集約型コンパクトシティ」を将来像に掲げた。市民WSの議論を経て、JR廃線後の代替交通となるバスのターミナル、図書・公民館機能、子育支援・児童館機能、市役所支所を合わせてもつ「小さなまち」のような複合施設が建設されることが決まった。
建物の南にターミナル、北に森が広がる配置を採用した。南に開き、北で絞る台形状平面とし、森への視線の抜けや、影の出来にくさに配慮し、裏表なくバスターミナル利用者と森のつながりを生み出した。
平面計画においては多世代に渡る利用状況が孤立することなく共存する空間を作り複合化のメリットを活かすことを考えた。耐力壁やブレースを外周部にのみ配し8.1mグリットで円柱を立てる軽快な鉄骨平屋造を採用し、求められた機能を、入れ子やガラススクリーンにより区切られた空間にゆるやかに配した。
屋根は北側の森に向け傾斜させ、天井高の異なる空間をつくり、中央に大きな南面ハイサイドライトを設けた。天井が低く水平に広がる子供のための場、天井が高く森を眺める静かな学習室等、多様な空間と、季節や時間で変化する光環境のもと多様や市民の活動が共存する。自然と都市が一体となった小さなまちのような当施設から、人口縮減の進む地方都市の課題に向き合った新しいまちづくりが始まっている。
北海道赤レンガ建築賞2020
北海鋼機械デザインアワード優秀賞2021
日本建築学会作品選集2021-2022
JIA建築年鑑2021-2022( 日本建築家協会優秀建築選100選 )
ArchDaily
Yubari City Community Base Complex RESTA
2019
Yubari-shi, Hokkaido
Structure:S
Floor:1 story
Floor Area:1,700㎡
Hokkaido University Setoguchi Laboratory( Basic Conception )
Yamawaki Katsuhiko Architectural Engineering Design( Structural Design )
Atelier BNK+Sogo Consultants( Mechanical & Electrical Engineering )
Yubari City, previously a prosperous coal-mining town, was designated an organization for fiscal reconstruction in 2007. The city, which has been forced to close down many public facilities, set up as an image of the future, an "intensive compact city" in which public facilities in the Shimizusawa area would be assembled. After discussions with the citizens' workshop, it was decided to construct a public facility complex like a "small town" that would combine a bus terminal (to provide an alternative means of transportation after discontinuation of the JR line), library/public hall functions, childcare support/children's hall function, and a branch of the city hall.
The bus terminal is located in the southern side of the building, with a wooded area extending to the north. The trapezoidal plane that opens to the south and narrows to the north creates a connection between the bus terminal users and the wooded area, taking into consideration the lack of any line of sight to the wooded area and the difficulty in creating shadows.
When designing the plan, we sought to create a space in which multiple generations could coexist without separation, but taking advantage of the merits of composition. A light steel-framed one-story structure with weight-bearing walls and braces arranged only around the outer circumference with columns standing in an 8.1-m grid was adopted, and the required functions were carefully arranged within the space created with separation provided by nesting and glass screens.
The roof slopes upward toward the wooded area to the north to create a space with different ceiling heights, and a large, high side light was installed in the center of the southern side. A low ceiling that spreads horizontally was designed as a place for children, as well as a quiet study room with a high ceiling and a view of the forest, and various other spaces coexist to cater for the various activities undertaken by the citizens, all under a lighting environment that changes with both the seasons and time. From these facilities, which look like a small town where nature and the city are united, this development provides a new beginning from which to face the challenges of regional cities with a declining population.
Hokkaido Red Brick Architecture Award 2020
Hokkai Koki Design Award 2021
2021-2022 Selected Architectural Designs of the Architectural Institute of Japan
Japan Architecture of the Year 2021-2022 selected by the JIA
ArchDaily