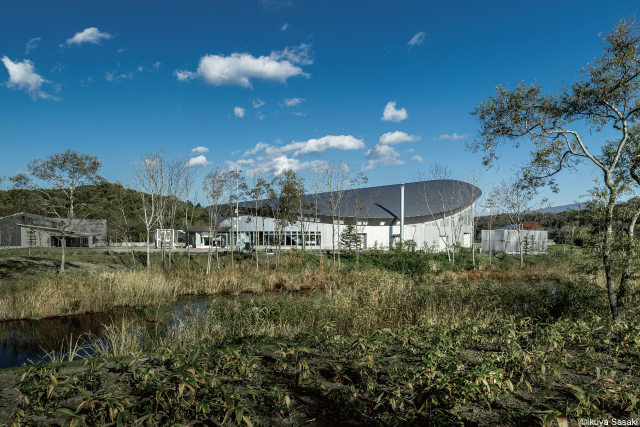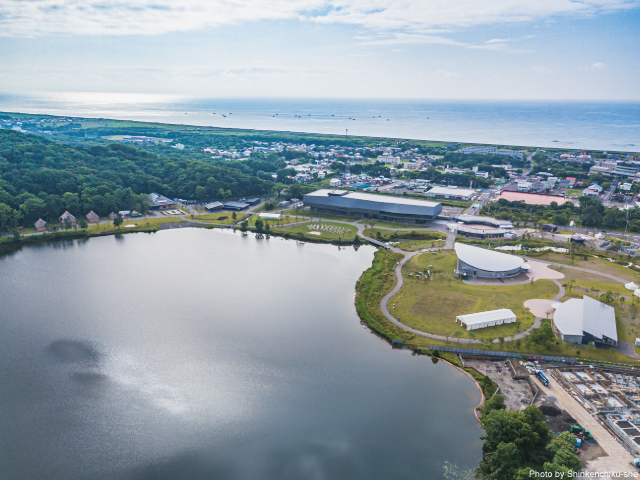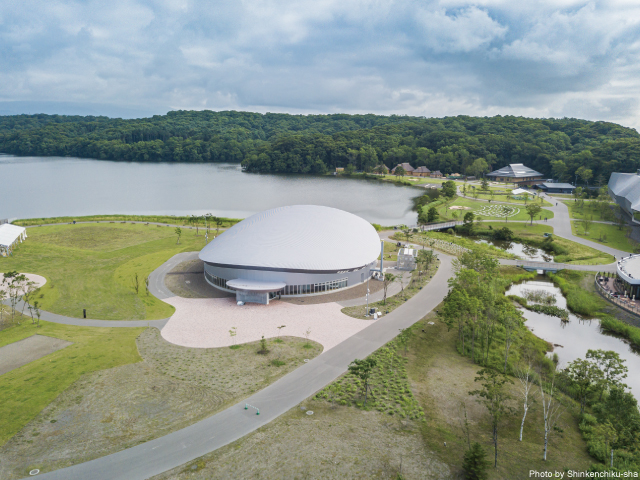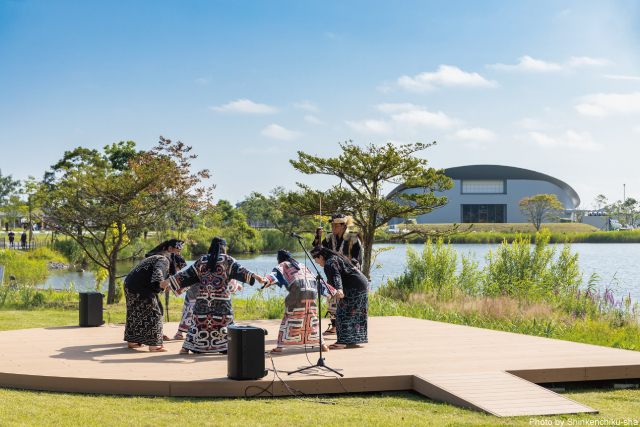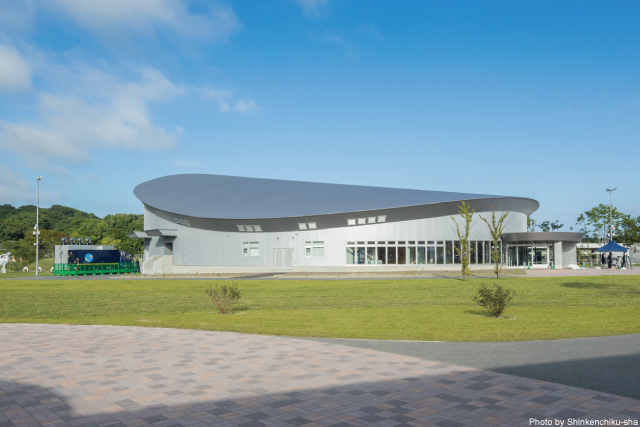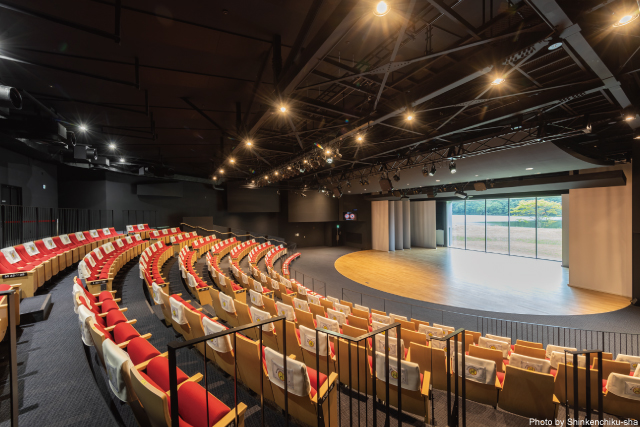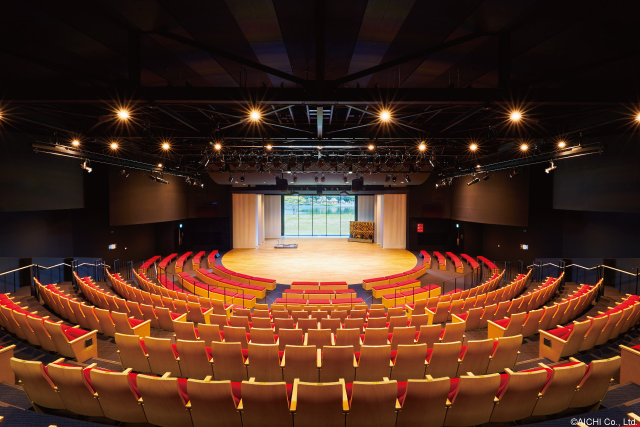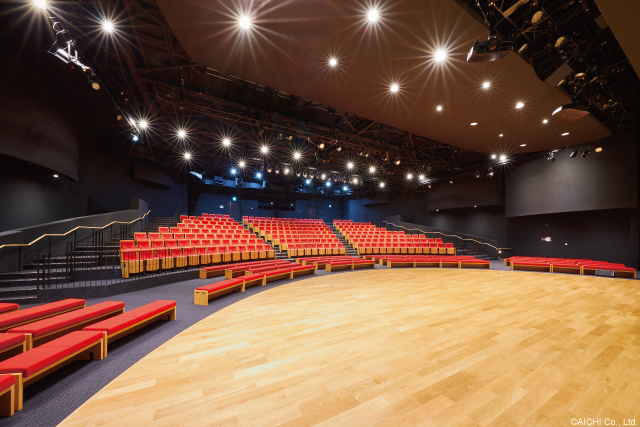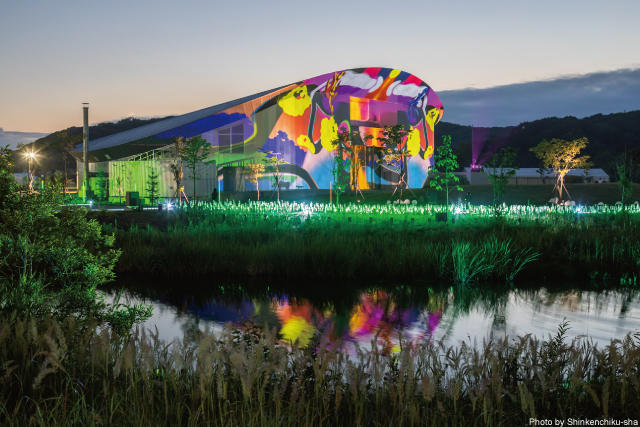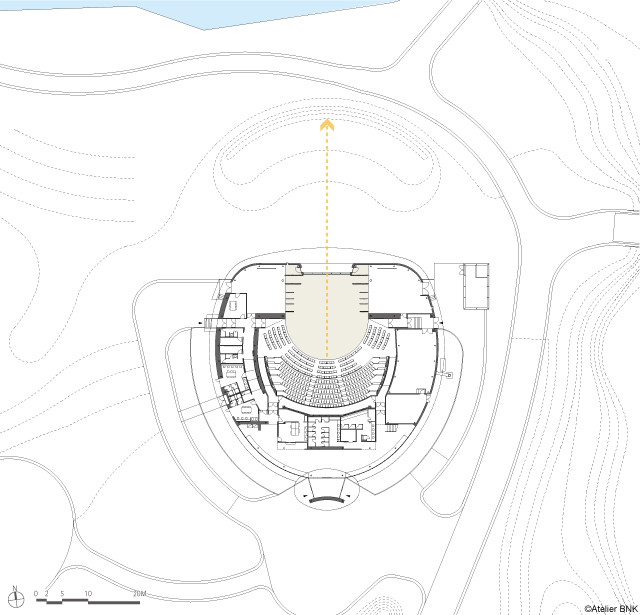 ウポポイ 国立民族共生公園 体験交流ホール
2019
北海道白老郡白老町
構  造:鉄骨造
階  数:地上2階
延床面積:1,666㎡
アトリエブンク + 総合設備計画JV
アトリエブンク + 山脇克彦建築構造設計( 構造設計 )
アイヌの歴史・文化の理解を深めるために、「体験・交流」をテーマとして伝統芸能などが上演される多目的ホールである。アイヌの古式舞踊において大切な「輪」のかたちをモチーフとしながら、ウポポイ(民族共生象徴空間)における中核施設としてアイヌの世界観を表現すること試みた。
敷地であるポロト湖南端のほとりは、東側の山の稜線と博物館が連続してつくる小高いボリュームに囲われた平坦で見通しの良い場所である。ここに「輪」になって交歓する場をイメージし、円形プランの変形からつくられたシリンダー状のかたちを置いた。屋根は同じ曲率の梁が連続する大屋根とし、対岸の伝統的コタン(住居であるチセの集まり)に向かう「借景軸」に沿って勾配を付けた。素材は屋根、外壁ともシルバー色の板金とすることで、ポロト湖面と一体となって自然光を素直に反射するとともに、見る位置によって姿が少しずつ変化することを意識した。
内部のステージ、客席は「借景軸」を中心にシンメトリーに構成し、ステージ背後の開口部からポロト湖の向こう伝統的コタンに向かって焦点をつくる。断面形は一枚の大きな曲面屋根を傾斜させて架け、ステージ上には必要十分なスペースを確保する一方2階客席部分は高さを抑えて全体の気積を抑えた。
内部客席はアイヌの古式舞踊の形式である「輪踊り」が映えるように、円形のスラスト型ステージのまわりに客席を配する構成として空間の一体感をつくった。演者と観客が垣根を越えてひとつになり、ウポポイ(「おおぜいで歌うこと」の意)の名にふさわしい場所となることを願っている。
新建築2020年9月号
Upopoy National Ainu Park Cultural Exchange Hall
2019
Shiraoi, Hokkaido
Structure:S
Floor:2
Floor Area:1,666㎡
Atelier BNK+Sogo Consultants Join Venture
Atelier BNK+Yamawaki Katsuhiko Architectural Engineering Design( Structural Design )
This is a multi-purpose hall where traditional performing arts are performed under the theme of "experience and exchange" in order to deepen the understanding of Ainu history and culture. We tried to express the Ainu worldview in the core facility of Upopoy (a symbolic space for ethnic harmony), using a "ring" shape, which is important in traditional Ainu dance, as a motif.
The site, which occupies the shoreline of the southern tip of Lake Poroto, is a flat, clear place surrounded by a slightly elevated area created by the ridgeline of the mountains on the east side and the museum. We took the image of a "ring" as a place in which people could interact, and placed a cylindrical building created as a variant on the circular plan. The roof is large with continuous beams of the same curvature, and is sloped along the "shakkei-jiku" (the axis of the surrounding landscape) toward the traditional Kotan (a collection of Ainu dwellings) on the opposite shore. By using silver-colored sheet metal for both the roof and the outer wall, we were aware that the natural light would be reflected gracefully together with the surface of Lake Poroto, and that the appearance would change little by little depending on the viewing position.
The interior stage and audience seats are symmetrically constructed around the "shakkei-jiku", with the focus on the traditional Kotan beyond Lake Poroto observable through the opening behind the stage. The cross-sectional shape is a large curved roof that that forms an inclined plane to secure sufficient space necessary for the stage, while the height of the audience seating on the second floor is lowered to reduce the overall air volume.
The interior audience seating is arranged around a circular thrust-type stage to create a sense of unity in the space to allow the "Ring Dance", a form of Ainu traditional dance, to be highlighted. We hope that the performers and the audience will break down the barrier between them and become one, and that it will be a place that deserves the name of Upopoy (meaning "singing in a large group").
Shinkenchiku Sep. 2020