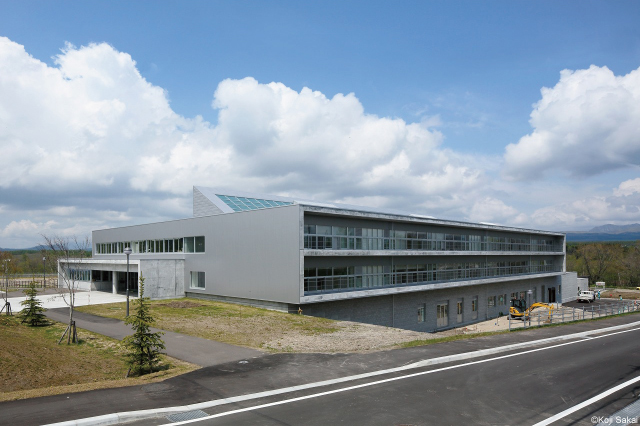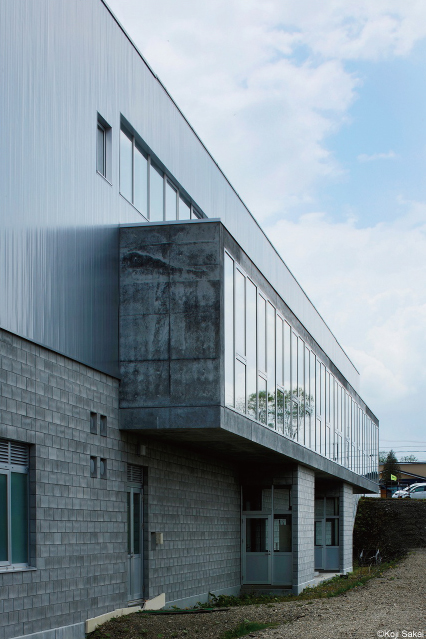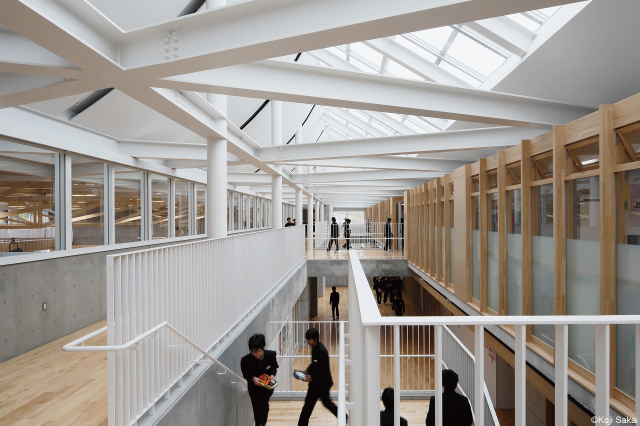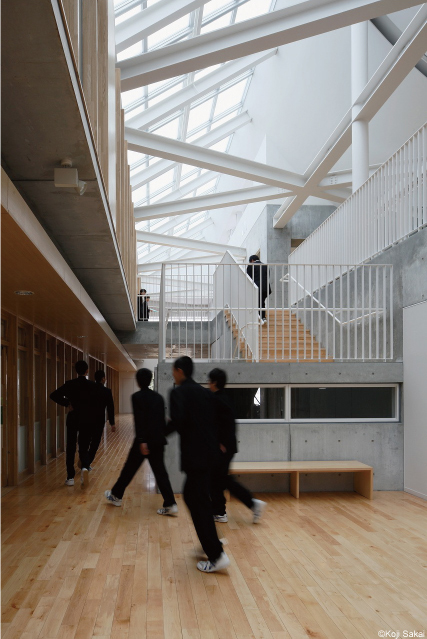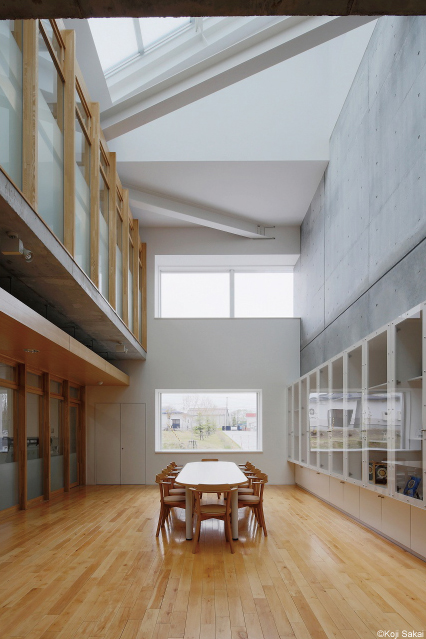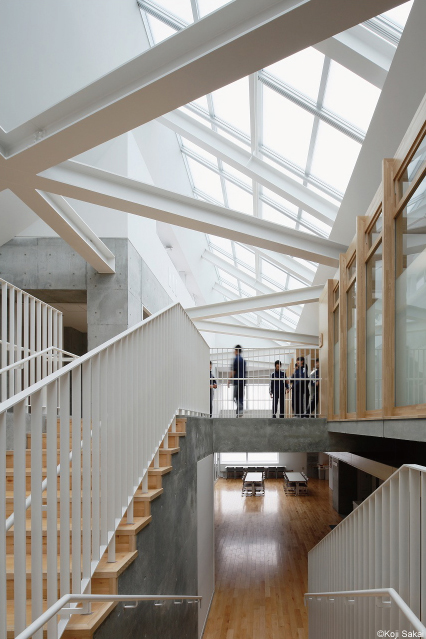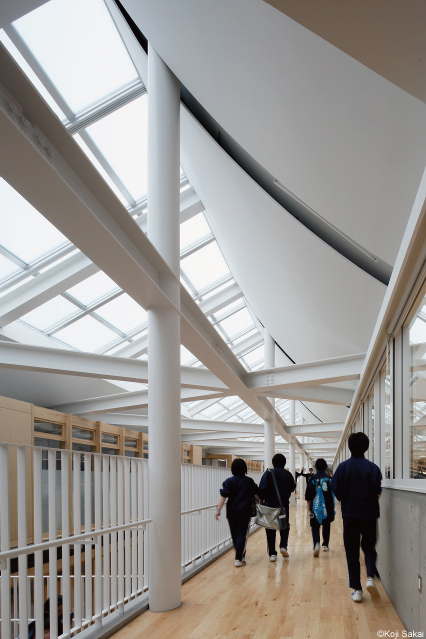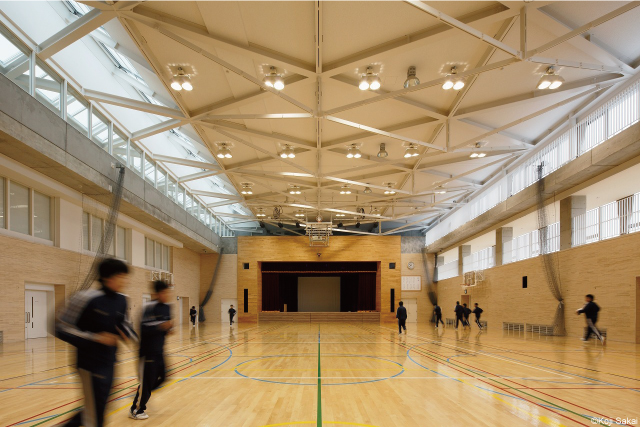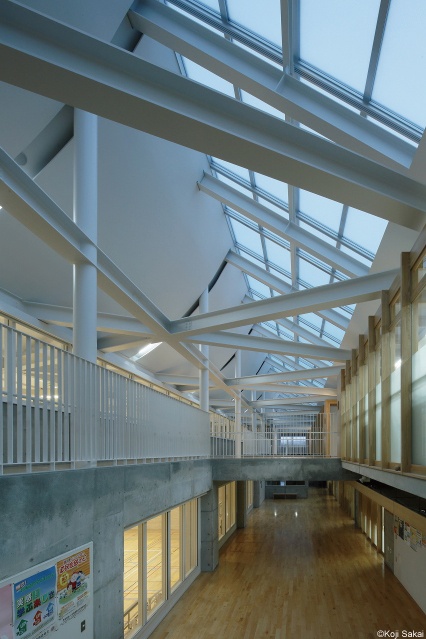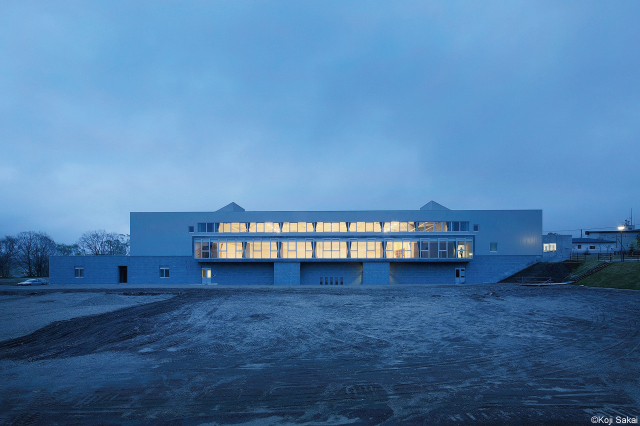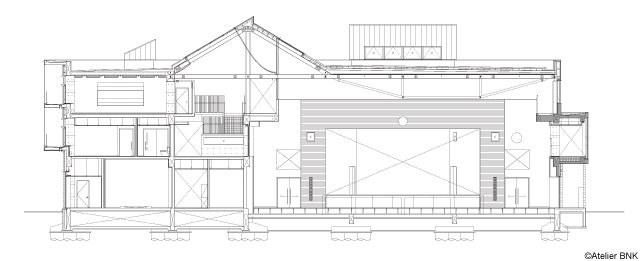 2011
北海道弟子屈町
構  造:鉄筋コンクリート造
階  数:地上3階
延床面積:5,685㎡
金箱構造設計事務所( 構造設計 )
総合設備計画( 設備設計 )
コンパクト・ソーラー・スクール
弟子屈中学校は、校舎と体育館だけでなく、給食センターも含めて3つの機能をコンパクトにひとまとめにした建築である。集約化により得られる、①移動利便性の向上、②お互いの活動が見える一体感の醸成、③壁の共有による建設コスト削減、④外壁面積縮小による暖房コスト削減、⑤一体化されたスケール感による力強い景観、⑥まとまって確保できるオープンスペース、などのメリットを徹底的に生かした計画としている。
建物内部は、トップライトからの柔らかい自然光が空間全体に回り込む「ソーラー・スクール」をコンセプトとした。教室の二面採光確保により人工照明利用を減らしながら、外にいるような清々しい環境を実現している。
敷地の高低差を生かし、3階建ての中間階である2階に昇降口を設け、メインフロアとしているのも大きな特徴である。2階には、自然の光と風を取り込んだ2~3階吹き抜け空間「ハンノキモール」を設け、多様な活動を受容する学校の中心軸とした。
Iconic Awards 2014( ドイツデザイン協議会主催 )
Teshikaga Junior High School
2011
Teshikaga-cho, Hokkaido
Structure:RC
Floor:3 floors
Floor Area:5,685㎡
Kanebako Structural Engineers( Structural Design )
Sogo Consultants( Mechanical & Electrical Engineering )
Compact solar school
The Teshikaga Junior High School facilities serve three functions through the compact combination of not only the school building and gymnasium, but also a school lunch center.
This combination is afforded by the application of a plan to make thorough use of the following advantages; 1) greater convenience of movement, 2) greater sense of unity through the ability to observe each other's activities, 3) reduced construction costs through sharing walls, 4) reduced heating costs through minimizing outer wall area, 5) a more powerful landscape through a unity of scale, and 6) the provision of a secure open space, in which to combine the above features.
The interiors are designed following the "solar school" concept, in which soft natural light from top-light illumination permeates the whole area. A refreshing outdoor-like environment is realized while reducing artificial lighting through the use of double-surface lighting.
Making use of the differences in elevation on the site, the entrance is constructed on the middle floor of the 3-story building to make it the main floor of the building and provide a major feature. On the 2nd floor, an "Alder Mall" was established to make use of the natural light and air entering from outside and form the school's central hub, in which various activities can be held.
Iconic Awards 2014( Sponsored by German Design Council )