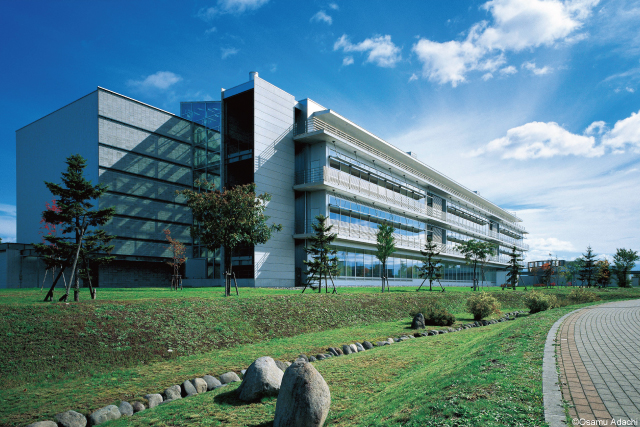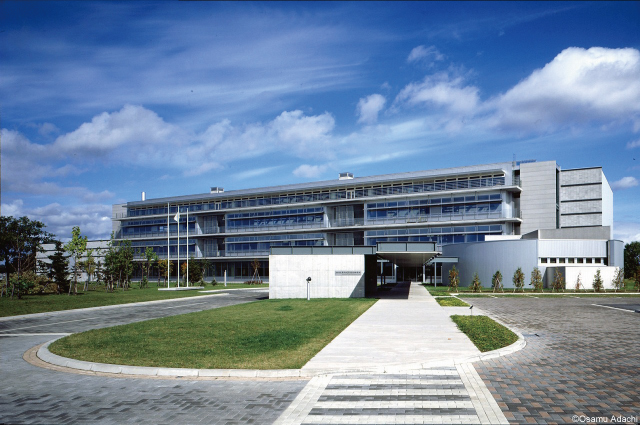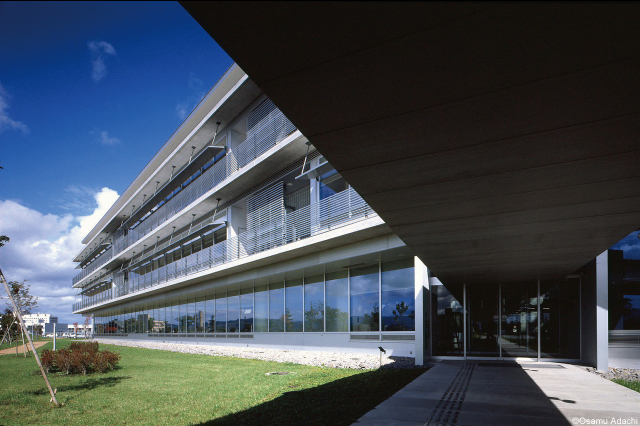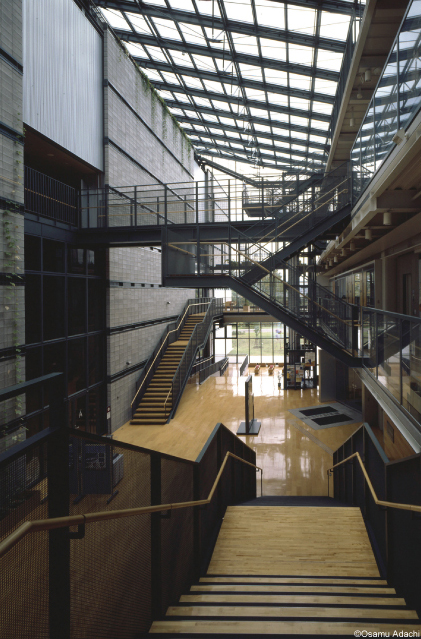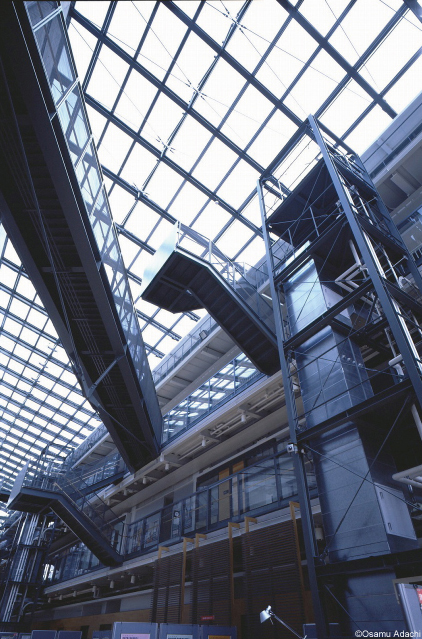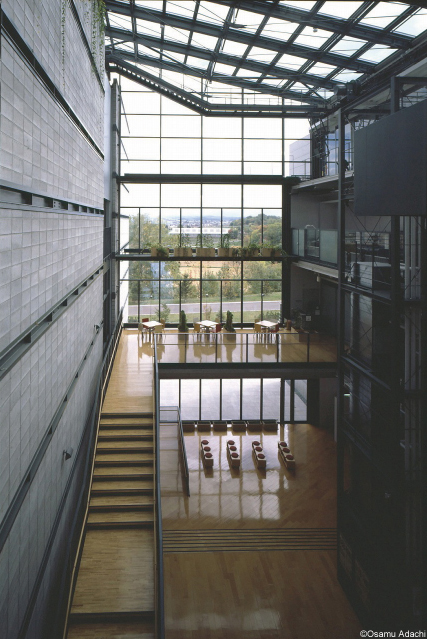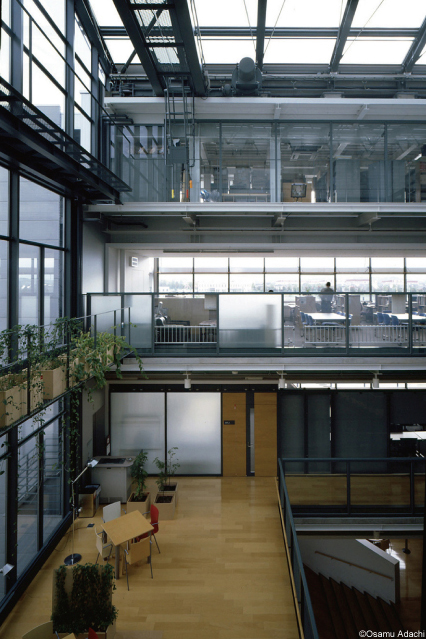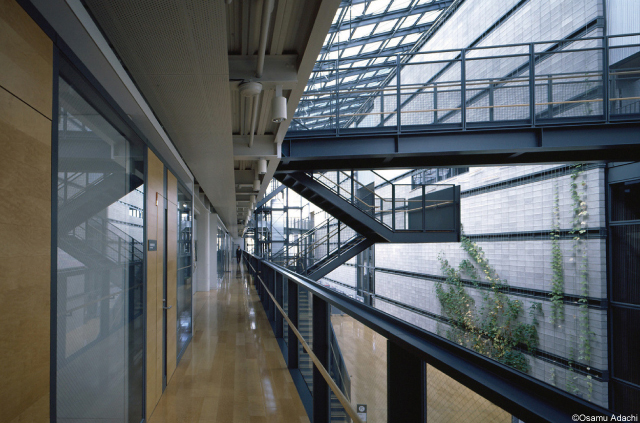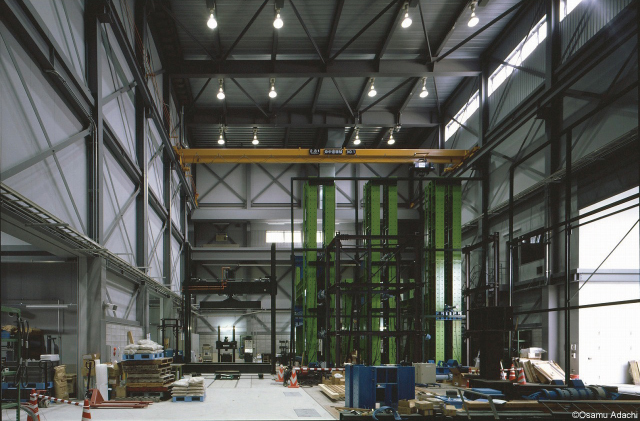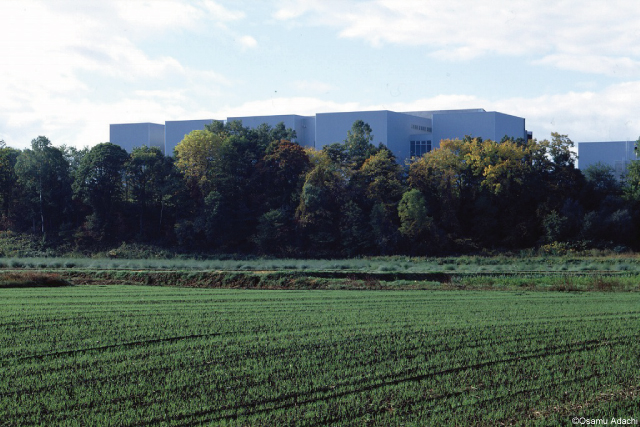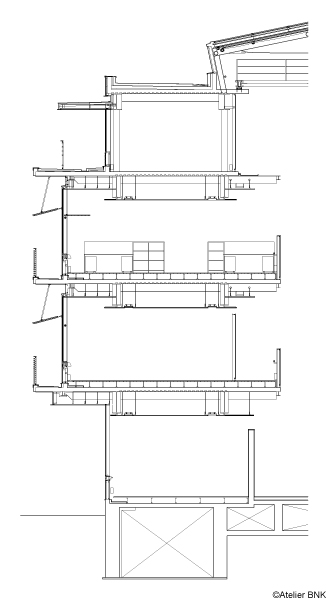 北方建築総合研究所
2002
北海道旭川市
構  造:鉄骨造 + 鉄筋コンクリート造
階  数:地下1階、地上4階
延床面積:8,356㎡
中原建築設計( 建築設計 )
柴滝建築設計( 建築設計 )
金箱構造設計( 構造設計 )
明野設備( 防災計画 )
岡ハス・環境・西村( 設備設計 )
北方建築総合研究所( 環境計画 )
当研究所の研究成果であるローエネルギー設備システムなど、寒冷地における実験的な試みを積極的に実用化した施設である。昼光利用、日射遮蔽、自然換気、雪冷房、氷冷房などのパッシブな手法を実現していくにあたり、アトリウム空間を中心とした空間システムの構築がテーマとなった。また、光や風の質を重視した全体構成とすることで、従来の役所や研究所建築にみられる諸室の因襲的なヒエラルキーを解体していく試みでもあった。
居住空間の質を決定する要因である「2面以上の自然採光」および「自然換気」の有無によって室内環境を設定した。管理研究棟2-3階(採光換気有)、同1階(採光1面・換気有)、同4階(採光有・機械換気)、実験棟(採光無・機械換気)の4種類の空間を積層させた断面形をつくり、要求諸室全てをこの断面形に当てはめた。諸室のゾーニングは、必要とされる室内環境に応じた配列となった。
避難経路を外部バルコニーに求めた結果、アトリウム内ブリッジ、階段は法的制限を免れ、外来者に対するセキュリティーとして、また人の流れを制御する装置としての機能的な配置が可能となった。
構造計画は、管理研究棟では3階の3つの研究室それぞれを21mスパンの無柱空間とすることで、光や空気の流れを阻害しない計画とした。実験棟では箱ごとにブレースによる鳥かごのような構造として独立性を高め、実験室個々の性能確保に配慮した。
公共建築協会公共建築賞優秀賞
環境省エネルギー建築賞国土交通大臣賞
日本建築学会作品選集2004
建築技術2002年9月号
Northern Regional Building Research Institute
2002
Asahikawa-shi, Hokkaido
Structure:S+RC
Floor:1 basement, 4 floors
Floor Area:8,356㎡
Nakahara Architects & Engineers Associates( Architectural Design )
Shibataki Architectural Design( Architectural Design )
Kanebako Structural Engineers( Structural Design )
Akeno Facility Resilience( Disaster prevention Planning )
Okahasu+Environment+Nishimura JV( Mechanical & Electrical Engineering )
Northern Regional Building Research Institute( Environmental Planning )
This facility implements experimental initiatives in cold climates, such as a low-energy building services system resulting from research done at this very institute. To implement passive methods of climate control, such as the use of daylight, solar shading, natural ventilation, snow cooling, and ice cooling, the focus of our design was the construction of a spatial system centered on an atrium space. Our design also attempted to dismantle the conventional hierarchy of rooms found in typical government offices and research institute buildings by creating an overall configuration based on the quality of light and wind.
The indoor environment was established according to the presence or absence of two primary factors that determine the quality of the living space: "natural lighting from two or more sides" and "natural ventilation".
The cross-sectional shape was created by stacking four different types of space: office building Floors 2 and 3 (natural lighting and ventilation), office building Floor 1 (natural lighting on one side, natural ventilation), office building Floor 4 (natural lighting, mechanical ventilation), and the laboratory building (no natural lighting, mechanical ventilation). All of the required rooms were fitted into this cross-sectional shape, and the rooms were zoned according to the indoor environment required.
The use of external balconies as escape routes exempted the bridges and staircases inside the atrium from legal restrictions and allowed a functional layout within which they serve as security against visitors as well as devices to control the flow of people.
Our structural design created a column-free space with a span of 21 meters in each of the three research rooms on Floor 3 of the office building, which means that the light and the flow of air are not obstructed by the structure. The laboratory building was given a birdcage structure using braces in every frame in consideration of the need to increase independence and maintain the performance of each individual laboratory.
Public Building Award, Excellence Prize
Building Environment and Energy Conservation Award, Minister of Land, Infrastructure and Transport Prize
2004 Selected Architectural Designs of the Architectural Institute of Japan
Kenchiku Gijutsu Sep. 2002